Light Weight Custom Bridges for Basses
PURE Bell Bronze String Trees for Guitar
Introducing the latest development from AlBridge Parts, a 100% PURE Bell Bronze string trees. These string trees are the perfect replacement for the generic metal string trees on your your Fender style guitar, or any guitar with string trees.
More often than not, the standard string trees will force your guitar out of tune when bending or using a tremolo arm, but the AlBridge string trees will prevent that while also enhancing the natural tone of your playing.
PURE Bell Bronze has perfect tension on strings and a nearly flawless friction coefficient (Steel and Bronze which only lists a lubricated value of 0.16). For example, see below for a friction coefficient comparison:
Brass + Steel: 0.50
Steel + Steel: 0.78
Bell Bronze + Steel: 0.16
Graphite Composite + Steel: 0.40
Bell Bronze has such a low friction coefficient when paired with Steel that your strings will glide effortlessly, like they are coated in natural lubricant. No more tuning slippage! Just like the Bell Bronze saddles on the AlBridge bridge replacements, these string trees will increase your natural sustain, provide perfectly chimney tones, and prevent note slippage from bends or tremolo use.
Primarily for Fender-style guitars, but can be used in place of most other string trees. Screws included.
Try it on your bass… we know basses
You ARE READY for this NEW AlBridge if you want to:
Improve intonation across the whole string set
Eliminate misalignment and rattling on the bridge
Sustain fuller tones on your strings
Achieve brighter tones on upper strings
Even up string tension for more even playing
Play more comfortably
Hit a wider range of low and high pitches
Give your bass new sexy look
Just keep playing better….
Limited Custom Production
US Retail Price $185.99
Yours For Just $109.99***
You're Saving $76.00
Spend less time to intonate. More time practicing.
Simply unscrew, replace and screw back.
It's the easiest, fastest way to improve your bass while keeping all original parts.
"This bridge gives you a natural like compression, where is a delay in the sound and it blooms and swells a little bit later after the attack." – Tallbassist Dmitry G.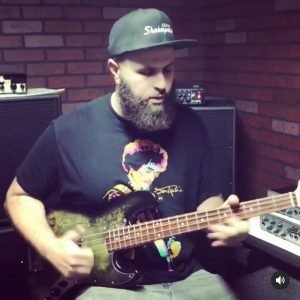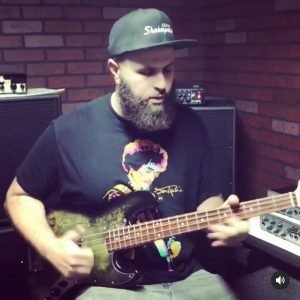 "This bridge gives you a natural like compression, where is a delay in the sound and it blooms and swells a little bit later after the attack." – Tallbassist Dmitry G.
AlBridge is a Duralumin Custom Light Weight Bass bridge, and it's a perfect direct replacement for 4, 5 and 6-String Basses (Fender Jazz Bass, P Bass, Music Master, Music Man, Sire Marcus Miller and similar) with 18mm, 19mm, or 20mm bridge string spacing.
You can see them on boutique Custom basses made by Miura Guitars, ELEGEE Guitars, Form Factor Audio, Knarley bass, Woodcraft Electric Guitars, TFW Enterprises, Ulyate Instruments, Wilkins Road Tested basses, Valiant guitars and more…
NO ALTERATION NEEDED
Have more fun with your bass!
By installing this AlBridge on your bass, you will convert it to a real Vintage-like tone. No hi-fi hiss, no thin-sounding high strings, with natural dynamic compression, reverse decay (blooms) and it will reduce the  weight of your bass.
Old Style Classic bridge VS new style AlBridge
New for 2020 Quick-Release Bridge. Click image to buy now!
Quick-Release Bridge OEM has 4 screws mount on the bridge. Quick-Release Bridge direct replacement for Fender basses requires saddles removed for installation. If you do not have experience, please use the help of guitar tech in your area.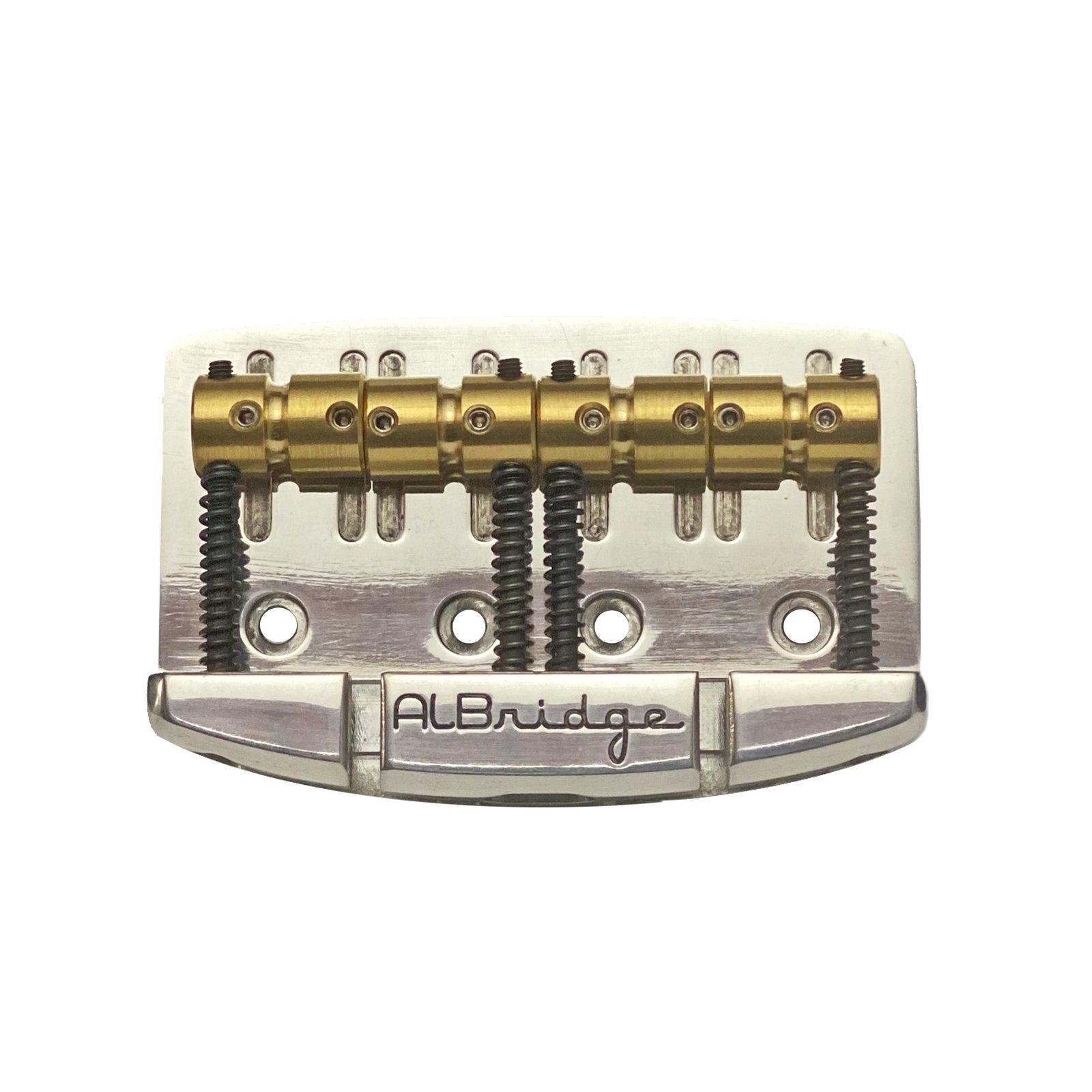 Now offering models compatible with Marcus Miller Sire Basses 4 and 5 string!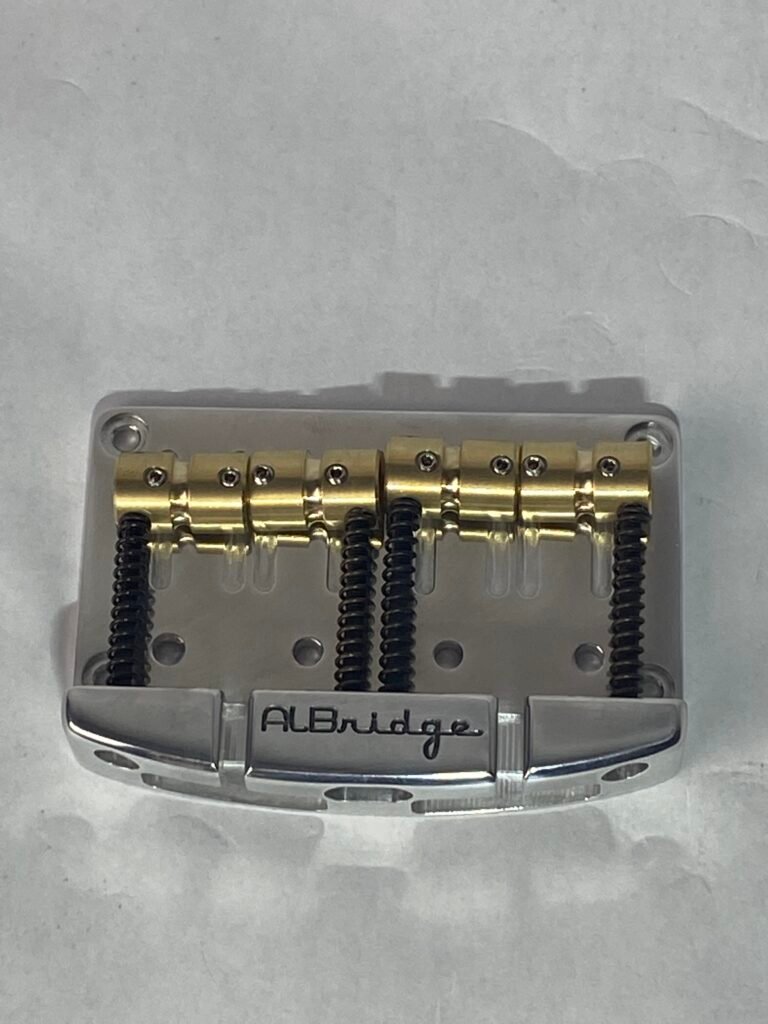 AlBridge's weight starts around 4 oz, thanks to its Duralumin construction.
Duralumin is an alloy, a trade name given to the earliest types of the aged hardened aluminum alloys. It's an alloy made up of 90% aluminum, 4% copper, 1% magnesium and 0.5% to 1% manganese. It's a very hard alloy with a good sonic resonance.

The tensile strength of duralumin is higher than aluminum

 Duralumin is useful for aircraft construction because

it is over 90 percent aluminum, which is very lightweight

. Since duralumin is much lighter than steel, very malleable, and ductile, it can be made into many different aircraft components that are durable, yet not as heavy.

Each bridge has Duralumin light weight foundation with string saver grooves, HEAVY MASS PURE Bell BRONZE Barrel saddles (NOT Brass), (made from Russian orthodox church bell bronze), allow better contact with strings and increase sustain. Bells rung in the Russian tradition are sounded exclusively by chiming (i.e., moving only the clapper so that it strikes the side of a stationary bell) and never by swinging the bell Russian orthodox church bells are commonly cast using a mixture of Bronze and Tin, often with Silver added to the bell metal, to produce their unique Sonority and Resonance.
To ring the Catholic bell, the ringer pulls on the rope, swinging the bell. The motion causes the clapper to strike the inside of the bell rim as it swings, thereby sounding the bell. A different bronze alloy is using and usually consisting of 80% copper and 20% tin.
stainless steel height adjustment screws, tight carbon hardened metal springs and intonation screws, so… NO more spring vibration, no more loose saddles.
The strings mount at the front rear or thru body. Intonation and string height are individually adjustable.
AlBridges come with included Mounting bridge screws (matching the bridge finish) and a set of allen wrenches.
Available for 4***, 5 and 6 string basses. String spread 18-19-20mm, Custom sizes available upon request. Mounting screw holes will line up with holes on stock Fender USA basses. All aftermarket/overseas made basses might need some alteration.
Available in Gun Metal Grey Satin, Shiny Polished,
or Black finishes.
North Hollywood, CA USA Design and Distribution, European production
My 1966 Fender Jazz Bass is really picky with bridges, that's what I've never found a bridge except for the Badass bridge. It works good but my problem with the badass bridge is that it tightens up the strings, because it's a longer stretch as the bridge goes further down the bass. The other thing is that 50% of the bridges I put on that bass, the G string gets splatty, you pluck it and it just dies. The bridge I had on right before this gave me a little bit of that splat, so I put the AlBridge on. And OMG, THE SPLAT IS GONE. Clear as a bell all the way down. And then I started noticing something else, it gave me better low end on that bass. That bass is kind of lacking in low end because of the old body which gives you that mid range, but I was so impressed with this bridge. ." – Los Angeles Session Player, Oscar Del Pinal.
Earlier this year I was shopping around for bridge upgrade to my six-year old Sire M3 bass VERSION 1.  I looked at three other "name" brand bridges, then noticed the Albridge on a Facebook post from Boutique Music Gear and Amp Shop Bass Exchange.  Then came my birthday, I went to Bass Exchange in North Hollywood and had one installed by Tina Wood.  Wow!  What amazed me from the start was how awesome the bass sounded in PASSIVE mode.  Also noticed when clicking on the preamp, it really sonically enhanced the tones of this bass.   It really enhanced the slap tone big time too!   Don't' wait any longer.  I highly recommend an Albridge upgrade.  Get one on your SIRE bass today!" – Carlo Tanori, Bassist for Suave the Band  www.suavetheband.com
I love it. I don't have any like raw data or science or anything
to back this up, but the sustain is ridiculous right now. You can
like fret a note, go into the next room (bass still on of course to stay fretted), pour yourself a bowl of cereal and milk, check the weather, get the mail, come back and the note will still be ringing." –Low End Lobster
Our 90 Day Money Back Guarantee
Before you go ahead and hit the "Add To Cart" button below We need to know that YOU'RE now totally comfortable and feeling secure. That's why we're putting 100% of the risk squarely on our shoulders. YOU can relax knowing that you are completely protected by our 90 day 100% Money Back Guarantee.
We're not jerks. If you're not happy we'll make it right. If our product doesn't deliver as promised let us know. There's no risk. It's all on us. You can feel secure hitting the "Add to Cart" button knowing you' full protected and we're going to take good care of you.

Order securely 24 Hours/Day, 7 days a week, 365 days per year
Limited Custom Production
US Retail Price $185.99
Yours For Just $109.99***
You're Saving $76.00
What Bass players are saying!
Better than expected" by Stephen T. (IA, United States) April 2, 2020
AlBridge was easy to install on my Jazz Bass, just 5 screws in the same screw holes. And… the tone! Holy smokes, the tone of by bass opens! Feels Like I put a new sets of strings. Highly recommend!" by Bass G. (CO, United States) April 12, 2020
Great. Item was as-described, easy to install with great sound improvement." by Jason M.
It looks new and sexy on my old bass, wish to had it on my earliest gigs."
I did a sound test on 2 my similar basses, and immediately started to adjust EQ knobs on my bass with the old bridge. Impressed!"
It made my fretless Jazz Bass sustains and sings way longer, very nice."
I installed this bridge on my bass. It was night and day difference between the old bridge and new one."
When installed this bridge, I notice increased the punch of the bass, also it gives me more sustain, but the punch is steel there. And by playing with attack, bass is giving you fretless Blooming sound."

Just received and installed the Albridge upgrade. wanted to thank you for the excellent service and speedy delivery. Looks and sounds much better than the stock SubRay4 bridge…
Fitting was a breeze. Very pleased.

What Guitar players are saying!
I installed a new tusq nut and Bronze string trees on my Fender Strat.  They help to keep the strings in place, improve the overall tone of the Strat and tuning stability".

Feel less friction, Low binding and less strings sticking when using tremolo on my Strat".