Custom Bridges for Classic Basses
Try it on your bass… we know basses
You ARE READY for this NEW AlBridge if you want to:
Improve intonation across the whole string set
Eliminate misalignment and rattling on the bridge
Sustain fuller tones on your strings
Achieve brighter tones on upper strings
Even up string tension for more even playing
Play more comfortably
Hit a wider range of low and high pitches
Give your bass new sexy look
Just keep playing better….
Limited Custom Production
US Retail Price $175.99
Yours For Just $99.99***
You're Saving $76.00
Spend less time to intonate. More time practicing. They're easy drop-in replacements, you can swap
them out with just a screwdriver!
Simply unscrew, replace and screw back.
It's the easiest, fastest way to improve your bass while keeping all original parts.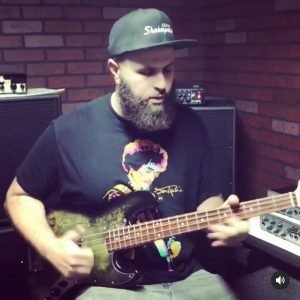 "This bridge gives you a natural like compression, where is a delay in the sound and it blooms and swells a little bit later after the attack." – Tallbassist Dmitry G.
AlBridge is a Duralumin Custom Light weight Bass bridge, and it's a perfect direct replacement direct replacement for 4, 5 and 6-String Basses (Fender Jazz Bass, P Bass, Music Man, Sire Marcus Miller and similar) with 18mm, 19mm, or 20mm bridge string spacing.
You can see them on boutique Custom basses made by Miura Guitars, ELEGEE Guitars, Form Factor Audio, Knarley bass, Woodcraft Electric Guitars, TFW Enterprises, Ulyate Instruments, Wilkins Road Tested basses and more…
NO ALTERATION NEEDED
Have more fun with your bass!
By installing this AlBridge on your bass, you will convert it to a real Vintage-like tone. No hi-fi hiss, no thin-sounding high strings, with natural dynamic compression, reverse decay (blooms) and it will reduce the  weight of your bass.
AlBridge's weight starts around 4 oz, thanks to its Duralumin construction.
Duralumin is an alloy, a trade name given to the earliest types of the aged hardened aluminum alloys. It's an alloy made up of 90% aluminum, 4% copper, 1% magnesium and 0.5% to 1% manganese. It's a very hard alloy with a good sonic resonance.
Each bridge has Duralumin light weight foundation with string saver grooves, HEAVY MASS Bell BRONZE saddles (NOT Brass) allow better contact with strings and increase sustain, stainless steel height adjustment screws, tight carbon hardened metal springs and intonation screws, so… NO more spring vibration, no more loose saddles.
The strings mount at the front rear or thru body. Intonation and string height are individually adjustable.
AlBridges come with included Mounting bridge screws (matching the bridge finish) and a set of allen wrenches.
Available for 4***, 5 and 6 string basses. String spread 18-19-20mm, Custom sizes available upon request. Mounting screw holes will line up with holes on stock Fender USA basses. All aftermarket/overseas made basses might need some alteration.
Available in Gun Metal Grey Satin, Shiny Polished,
or Black finishes.
North Hollywood, CA USA Design and Distribution, European production
"My 1966 Fender Jazz Bass is really picky with bridges, that's what I've never found a bridge except for the Badass bridge. It works good but my problem with the badass bridge is that it tightens up the strings, because it's a longer stretch as the bridge goes further down the bass. The other thing is that 50% of the bridges I put on that bass, the G string gets splatty, you pluck it and it just dies. The bridge I had on right before this gave me a little bit of that splat, so I put the AlBridge on. And OMG, THE SPLAT IS GONE. Clear as a bell all the way down. And then I started noticing something else, it gave me better low end on that bass. That bass is kind of lacking in low end because of the old body which gives you that mid range, but I was so impressed with this bridge.  ." – Los Angeles Session Player, Oscar Del Pinal.
Our 90 Day Money Back Guarantee
Before you go ahead and hit the "Add To Cart" button below We need to know that YOU'RE now totally comfortable and feeling secure. That's why we're putting 100% of the risk squarely on our shoulders. YOU can relax knowing that you are completely protected by our 90 day 100% Money Back Guarantee.
We're not jerks. If you're not happy we'll make it right. If our product doesn't deliver as promised let us know. There's no risk. It's all on us. You can feel secure hitting the "Add to Cart" button knowing you' full protected and we're going to take good care of you.

Order securely 24 Hours/Day, 7 days a week, 365 days per year
Limited Custom Production
US Retail Price $175.99
Yours For Just $99.99***
You're Saving $76.00
What Bass players are saying!
April 2, 2020 by Stephen T. (IA, United States)
"Better than expected"
April 12, 2020 by Bass G. (CO, United States)
"AlBridge was easy to install on my Jazz Bass, just 5 screws in the same screw holes. And… the tone! Holy smokes, the tone of by bass opens! Feels Like I put a new sets of strings. Highly recommend!"
By Jason M.
"Great. Item was as-described, easy to install with great sound improvement. "
"It looks new and sexy on my old bass, wish to had it on my earliest gigs"
"I did a sound test on 2 my similar basses, and immediately started to adjust EQ knobs on my bass with the old bridge. Impressed!"
"It made my fretless Jazz Bass sustains and sings way longer, very nice"
"I installed this bridge on my bass. It was night and day difference between the old bridge and new one"
"When installed this bridge, I notice increased the punch of the bass, also it gives me more sustain, but the punch is steel there. And by playing with attack, bass is giving you fretless Blooming sound"